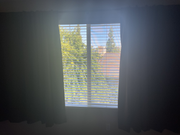 There are certain movie scenes that stick with me that I think about almost every day. Do you have any?
For example, every morning when I wake up and open my dark brown blackout curtains by spreading them open with both hands, I am reminded of a particular movie scene. Do you know which one I am talking about?
Another one is every morning when I stir my coffee, I am reminded of the scene in Get Out where Kaluuya's character is hypnotized and sinks underground into darkness.
Anybody else have stuff like this?