Posts: 3074
Joined: Wed Mar 05, 2014 6:58 pm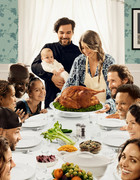 Window is open again ... blue skies ahead?
---
Online
Happy Thanksgiving! Enjoy your families! I'm thankful to have both of my boys home with me today.
"If you went into a lab and wanted to construct a starting five, this is what it's going to look like. This is as good as it gets…" - Tim Legler
---
---
Happy Thanksgiving to everyone but Josh Jackson, fuck that guy.
Acquisition wish list: Alex Caruso.
---
Posts: 7168
Joined: Fri Mar 07, 2014 8:45 pm
---
Happy Thanksgiving everyone. I will only have 2 of my kids home with me today. But all 7 of my grandchildren.
---
Acquisition wish list: Alex Caruso.
---
Hope everyone had a great Thanksgiving! We had my wife's side of the family over and had a delightful time up here in Seattle. With three wonderful kids and a wife way too good for the likes of me, I have so much to be thankful for.
---
Belated happy thanksgiving to all! Things are moderately crazy here and I wasn't able to celebrate this year, but still thankful for all I'm able to enjoy. And the Suns' recent streak of victories.
---